Data Warehouse Architecture
Right Choices for Data Warehousing and Business Intelligence Success
Technical architecture is all about making the right choices for the data warehousing and business intelligence effort. This article will help you to set the foundation for the successful data warehouse.
According to IEEE standard 1471-2000, "Software architecture is the fundamental organization of a system,
embodied in its components, their relationships to each other and the environment, and the principles governing its design and evolution".
Data warehousing technical architecture includes:
Functional and Non-functional Requirements
Architectural Principles
Buy, Build or Re-Use
Metadata
Data Sources
Extracting
Physical Storage and Operation
Data Model Patterns
Mapping, Transforming, Enriching, and Loading
Analyzing and Presenting
Managing, Operating, and Securing
Architecture Roadmaps
This is a large topic, so there are many references to supporting data warehousing and business intelligence articles at this and other websites.
At another level, data warehousing architecture builds on the classic system pattern: input, process and output: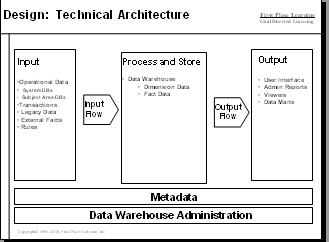 Functional and Non-functional Data Warehousing Requirements
The recommendation "Begin with the end in mind" is very true for data warehousing and business intelligence. The end that we have in mind is a system that satisfies both functional and non-functional requirements, that is, a system that does what it is supposed to do.
Functional requirements (business requirements) are needs identified by the business relating to data and business processes. For example, we may be looking for a system that provides information about customers, territories and products and that supports business processes of selling and customer support. See the article, Requirements for Data Warehousing and Business Intelligence, for guidance on how to gather and organize business requirements.
Non-functional requirements are needs about performance and IT chosen practices. Performance includes issues such as required system availability and recoverability. It depends on the volume of data and number of users expected for the data warehouse. IT chosen practices include selected technologies (the "tech stack") and standards.
Data Warehousing Architectural Principles
Data warehousing architectural principles, largely complementing enterprise architecture set a framework for decision making. One set of architectural principles are the "ilities":
Flexibility - systems should adaptable to changing conditons
Scalability - systems should be expandable
Some additional principles might include:
Re-use before buy and buy before build
Develop in manageable steps.
Don't boil the ocean
Buy, Build or Re-Use Data Warehouse Components?
A critical question to data warehousing efforts, is how to obtain the resources that make up the data warehousing system. There are three options:
Re-use existing resources
Buy a new resource
Build a resource
Re-using existing resources can often save money and deliver a superior and more maintainable solution. If we buy or build new components every time that there is a new project, then the portfolio of resources will soon become bloated and expensive to maintain. Re-use can have drawbacks. Existing resources may not meet current function or non-functional requirements.
Buying a new data warehousing resource can save time and money over building a resource. Buying is a good choice when products are available for a price less than building and meet a large percentage of requirements. Purchased software may have more features and fewer problems than home grown software for example.
Building a resource can be a good answer when there are no existing resources to re-use and purchased resources that meet requirements are not available for a reasonable price. Building a solution or part of a solution can result in a competitive advantage where your organization has a capability that is not readily duplicated by competitors. Cost is also a factor. Purchased software often has a per user or per computer charge while in-house developed software can be made available to internal users without additional licensing fees.
In general, we recommend "Re-use before buy and buy before build". Some combination is likely. Create a list of needed resources and specifying the type of sourcing for each item.
Metadata for Data Warehousing and Business Intelligence
Metadata is often defined as "data about data". In practice, data warehousing metadata is any data that describes or controls the system that is not procedural programming code. Examples of metadata include:
Data definitions
Data models
Data mapping specifications
Defining data once through metadata and then re-using those data definitions can save much development and support time while resulting in more consistent data warehousing solutions.
Metadata is typically created in tools such as the data modeling tool and the ETL tool. It may then be stored in metadata repository that manages and coordinates this information.
See the article, Metadata for Data Warehousing and Business Intelligence, for further insights.